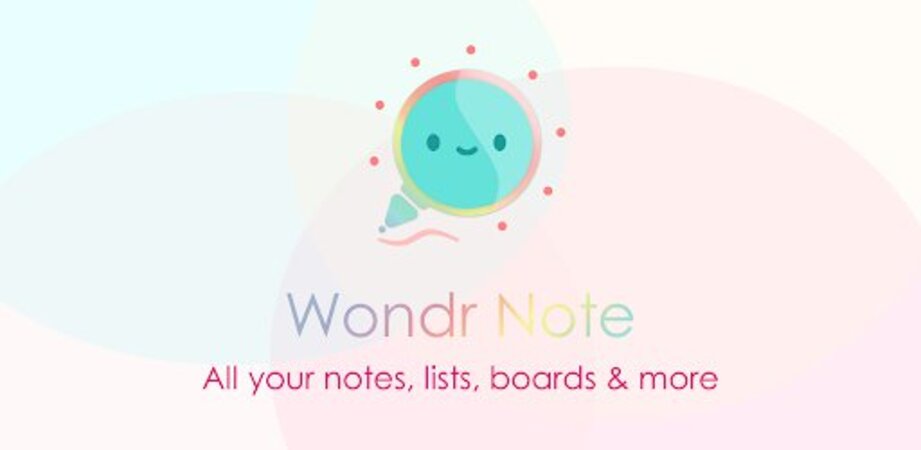 The new era of note taking & to-do lists is here and it is time we adhere to it. Whether we are doing it for personal or professional reasons. Wondr Note is an app created to subconsciously instill creativity while keeping productive.
While working on Wondr Note we tried our best to make the app light while keeping it productive and pretty. Moreover, it is not your everyday note taking tool because of it's unique features that keep everyday tools at your finger tips.
Check it out here – https://play.google.com/store/apps/details?id=com.q61.note
▌MORE STUFF YOU COULD DO ON WONDR NOTE
✓ Making a grocery list & select which items to by for today or throughout the week
✓ Add widgets of your important lists, agendas or countdowns
✓ Add a checklist of your errands & chores in your daily agenda
✓ Make simple accounts of a night out
✓ Add all your favourite recipes with a picture and steps in a numbered todo list
✓ Write short stories
✓ Keep journal entries with an image
✓ Take down bulleted lecture notes and lists
✓ Make a to-do list for assignments or homework
✓ Make a countdown of days to your examinations
✓ Create a board with your wishlist of things you want to buy or do
✓ Tag and color all the above
✓ And many more…!
▌FEATURES
★ Notes
★ Lists with options for checklist, numbering & bullets
★ Basic accounts
★ Mood Boards of images with description
★ Day countdown
★ Widgets (Notes, lists, countdowns, quick-add & today's agenda)
★ Tags (pick or add your own)
★ Themes
★ Backgrounds (pick or add your own)
★ Share notes to your friends or apps
★ Share info from other apps and save as a note
Add daily agendas
★ Add items from lists & notes into today or future agenda
★ Add new items to daily agendas
Themes, backgrounds & customization
★ Choose from over 20+ themes free and 20+ more premium
★ Beautifully themed throughout the app according to your selection
★ Customize and create your own premium theme
★ Add color to your notes, lists, accounts and countdown
★ Add a feature image to your notes, lists, accounts and countdown
★ Choose from over 20+ backgrounds free and 20+ more premium
★ Add your own background
Other features
★ Drag & drop features to manually organize your notes, lists & more
★ Categorize all items & easily search for them
★ Pick list or grid view
★ Share notes to your friends or apps
★ Share info from other apps and save as a note
Privacy Policy
★ Only you own, and have access to all your data
★ Your data is stored in the internal storage of your device inaccessible by other applications
★ We do not collect or store any data
★ Backup & restore your data in Google Drive (Beta)
Coming Soon
★ Calendar
★ Font customization
Our Vision board App – Ryze & Shine : https://play.google.com/store/apps/details?id=com.q61.vb
For Motivation & Enquiries: https://mightybearvibes.com/