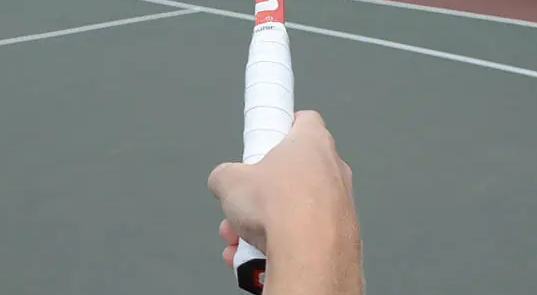 Tennis is a dynamic sport that requires skill, precision, and adaptability. One crucial aspect of your game is selecting the right tennis grip. The choice of grip can significantly influence your performance on the court. In this article, we'll explore the various types of tennis grips, factors to consider when choosing the best grip for sweaty hands tennis, and essential tips to maintain a proper grip.
Importance of the Tennis Grip
Your tennis grip is your primary point of contact with the racquet. It's the link between your body and the racquet, and it plays a pivotal role in determining the quality of your shots. A well-suited grip can enhance your control, power, and spin on the ball. On the other hand, an improper grip can hinder your progress and even lead to injuries.
Common Types of Tennis Grips
Eastern Grip The Eastern grip is a fundamental grip that's suitable for beginners. It's characterized by placing the base knuckle of your index finger on the third bevel of the tennis racquet handle. This grip offers a good balance between control and power.
Western Grip The Western grip involves positioning your base knuckle of the index finger on the fifth or sixth bevel. It's ideal for generating topspin and is commonly used by players who favor a baseline game.
Continental Grip The Continental grip is versatile, often used for volleys and serves. It's achieved by placing the base knuckle of the index finger on the second bevel of the handle.
Semi-Western Grip Positioned between the Eastern and Western grips, the Semi-Western grip provides a compromise between power and spin. The base knuckle of the index finger falls on the fourth bevel.
How to Choose the Right Tennis Grip
Selecting the appropriate tennis grip depends on several factors.
The Role of Hand Size
Your hand size is a crucial determinant. Larger hands may benefit from grips that offer more power and control, while smaller hands may require grips that provide better maneuverability.
Impact of Playing Style
Consider your playing style. Baseline players may prefer grips that allow for heavy topspin, while serve-and-volley players might opt for a continental grip.
Comfort and Feel
The comfort and feel of the grip in your hand are essential. It should feel natural and allow you to maintain control throughout the match.
Getting Professional Advice
Seek advice from a tennis coach or professional. They can assess your game and recommend a grip that suits your style and skill level.
How to Change Your Tennis Grip
If you want to change your grip, it's important to do so gradually. Making abrupt changes can disrupt your game. Practice with the new grip and slowly adapt to it.
Tips for a Proper Tennis Grip
Ensure your grip is not too tight, as this can lead to tension and less maneuverability.
Maintain a consistent grip pressure during your strokes.
Use overgrips to customize the feel of your grip.
Keep your wrist firm and aligned with your forearm to avoid injury.
Avoiding Common Mistakes
Common mistakes include gripping the racquet too tightly, which can lead to discomfort and injuries, or gripping it too loosely, causing control issues. Finding the right balance is key.
Maintenance of Tennis Grips
Regularly inspect your grip for wear and tear. Replace it when necessary to maintain consistent performance. A good grip can make a significant difference in your game.
Conclusion
In conclusion, choosing the right tennis grip is a personal decision influenced by factors like hand size, playing style, and comfort. It's a critical aspect of your game, and finding the perfect grip can significantly enhance your performance on the tennis court.