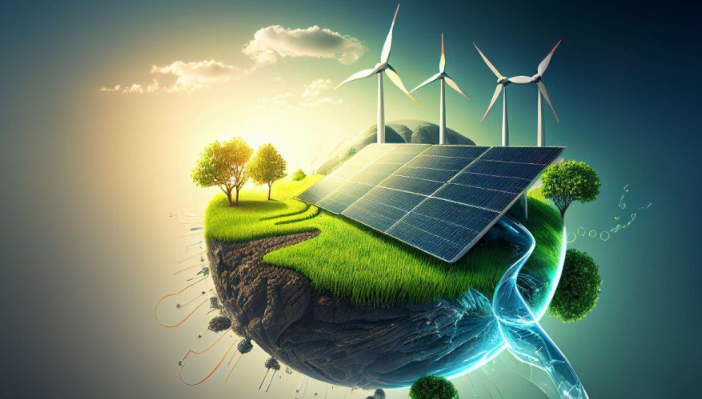 In a world where the pursuit of progress often intersects with environmental concerns, the search for sustainable energy sources has emerged as a paramount endeavor. Our planet's health and our quality of life depend on the choices we make today. One of the most promising and pivotal solutions to this challenge is renewable energy.
The Rise of Renewable Energy
Renewable energy represents a beacon of hope in our quest for a cleaner, greener future. It embodies innovation, harnessing the power of nature to meet our energy needs while mitigating the harmful effects of fossil fuels. The journey to understanding renewable energy begins with the fundamental question: What is renewable energy?
Defining Renewable Energy
Renewable energy, also known as green or sustainable energy, is derived from sources that naturally replenish themselves. Unlike fossil fuels such as coal, oil, and natural gas, which are finite and emit harmful greenhouse gases when burned, renewable energy sources are infinite and produce minimal to no emissions.
Types of Renewable Energy
The world of renewable energy is rich and diverse, offering an array of sources to tap into. Each has its unique attributes and benefits:
Solar Power: The sun, a boundless source of energy, is harnessed through photovoltaic cells to generate electricity. Solar panels can be installed on rooftops, in solar farms, and even on spacecraft, providing clean energy solutions for both homes and industries.
Wind Energy: Wind turbines capture the kinetic energy of the wind and convert it into electricity. Wind farms dot landscapes, turning breezes into power that fuels homes and businesses.
Hydropower: The flow of water, from rivers to oceans, can be harnessed to generate electricity through hydropower plants. This technology has been a cornerstone of renewable energy for centuries, offering a reliable and clean energy source.
Biomass: Organic matter, such as wood, agricultural residues, and even algae, can be converted into biofuels, biogas, and electricity. Biomass energy not only reduces waste but also provides sustainable alternatives to fossil fuels.
Geothermal Energy: Beneath the Earth's surface lies a reservoir of heat that can be tapped into to generate electricity and provide heating. Geothermal power plants utilize this underground energy to create a consistent and reliable source of power.
Tidal and Wave Energy: The ebb and flow of ocean tides, as well as the motion of waves, can be harnessed to generate electricity. These technologies are still evolving but hold significant potential for coastal regions.
The Green Advantages
Renewable energy sources offer an array of advantages that extend far beyond their ability to generate electricity. Here are some of the key benefits:
Reduced Carbon Footprint: Perhaps the most critical advantage of renewable energy is its minimal environmental impact. Unlike fossil fuels, renewable sources produce little to no greenhouse gas emissions, helping combat climate change.
Sustainable and Abundant: Renewable energy sources, as the name suggests, are sustainable and virtually inexhaustible. The sun, wind, water, and organic matter will be available as long as the Earth exists.
Energy Independence: By harnessing renewable energy, countries can reduce their dependence on fossil fuel imports, enhancing energy security.
Job Creation: The renewable energy sector is a thriving job creator. Installing and maintaining renewable energy infrastructure has generated employment opportunities worldwide.
Economic Growth: The transition to renewable energy can stimulate economic growth by fostering innovation and attracting investment in green technologies.
Improved Air Quality: Reduced air pollution from the combustion of fossil fuels leads to better air quality and fewer respiratory illnesses.
Conclusion
Renewable energy is not just a buzzword; it's a lifeline for our planet and a beacon of hope for generations to come. By harnessing the boundless power of the sun, the wind, and the Earth itself, we can create a future where clean, sustainable energy is the norm, not the exception. It's a future that promises cleaner air, reduced carbon emissions, energy independence, and economic growth. It's a future where we all have a role to play, from governments and corporations to individuals like you and me.