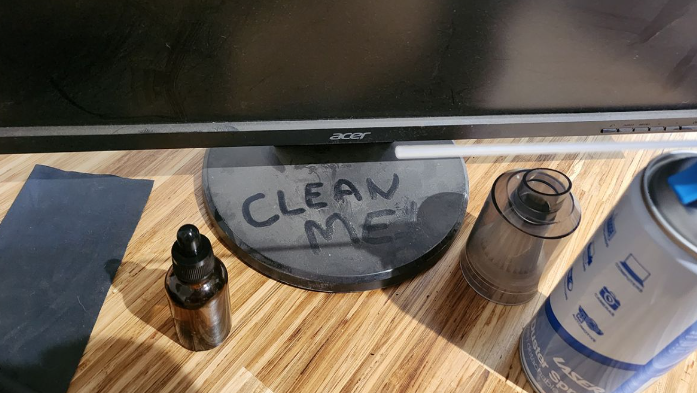 The computer has firmly entered the daily life of a person – with its help you can learn the news, communicate with loved ones, enjoy gambling at teen patti or watch Netflix, and, of course, work. Over time, you may notice that on the screen of the electronic device appears dust, dirt, and greasy traces, which significantly worsen the perception of the image. Eventually, a blurry and poor-quality image can affect your eyesight, so don't wait for it to get worse instead clean your device's screen regularly. To make the equipment serve as long as possible, you need to know exactly how to clean the computer screen.
We don't recommend you clean the monitor too often, since the protective coating of the computer or laptop can not always be resistant to frequent mechanical influences. It is more effective to clean it as dirt accumulates (about once a month), and a few dust particles can simply be removed with a piece of microfiber cloth. More frequent care will be required if near the computer is constantly carried out – in this mode, it is necessary to do the cleaning once every one or two weeks.
To reduce the number of cleanings, you need to be more careful with your gadgets. Do not put food or drinks too close to the notebook and purchase a special protective film designed specifically for touchscreen monitors. Maintaining the cleanliness of the computer device at home will help with different methods. First of all, don't use alcohol or alcohol wipes, as this can lead to the dissolution of the anti-reflective film. And you should never use household chemicals for dishes or windows to clean the computer monitor. It is better not to use napkins or paper towels because they contain sharp wooden particles that can scratch the plane, so as any abrasive means. If it is necessary to clean the screen, and the necessary means are not at hand, the best solution is to temporarily leave everything as it is, so as not to harm the device. Before cleaning, make sure that the unit is not connected to the mains, and then follow these recommendations"
A lint-free cloth is best for cleaning.
Wipe the monitor gently without pressing on the surface.
Do not spray special cleaning sprays directly on the screen to prevent them from seeping in.
It is not recommended to remove dirt with fingernails: if they are not cleaned off on the first attempt, it is best to make another attempt.
When cleaning, the monitor should be held down to prevent it from accidentally tipping over.
In the corners of the monitor, cotton swabs or a cloth-wrapped toothpick will help protect it from dust.
You can turn on the device only after it is completely dry.
For quality care of the surface of laptops
are used cleaning agents and folk methods. Among the cleaning agents, the most effective are wet wipes for monitors, special cleaning kits consisting of dry and wet wipes, sprays with a cloth, and microfiber cloths. Wet varieties are the best option, as they cope with almost all contaminants and at the same time are suitable for any electronic devices. In addition, they perfectly relieve static tension.
Sets with dry cloths allow you to additionally remove moisture residues from devices and do not leave streaks. Microfiber is used to effectively collect dust, as well as quickly remove greasy traces, and sprays – to destroy stains. It is recommended to apply different types of sprays not on the device itself, but on a cloth, which should be used to wipe the computer afterward. If the screen is in urgent need of cleaning and special products are not available, you can wipe it with a damp, lint-free cloth dampened with water and then dry it with a microfiber cloth. This method is affordable, but it does not provide antistatic protection. Enjoy using your computer and keep its monitor clean!