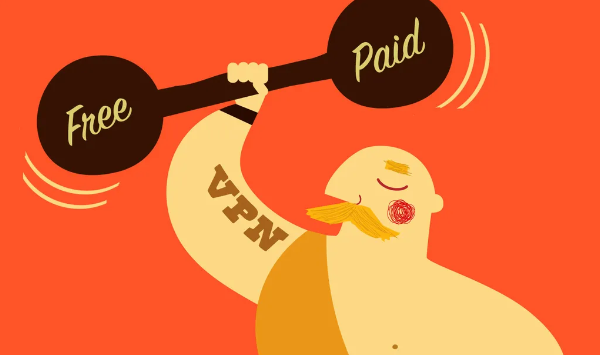 In the modern-day world, where online privacy and security have become paramount, VPNs (Virtual Private Networks) have gained significant popularity. These tools help protect a user's data from prying eyes, ensure their online anonymity, and even enable access to geo-restricted content.
However, when it comes to choosing a VPN, there's a fundamental decision to make: free VPN apps or paid VPNs? In this blog, readers will explore the pros and cons of each to help them determine which option is right for them.
Free VPN Apps: The Attractive Option
Cost: Zero Dollars
Perhaps the most appealing aspect of free VPN apps is, well, they're free! For users on a budget or those who only need occasional VPN usage, this is a clear advantage.
Accessibility
Free VPNs are often easy to find and install. They are available on various platforms, including mobile devices and desktops.
Simple Setup
Many free VPN apps are designed with user-friendliness in mind. One does not need to be a tech guru to get started with one.
Anonymity and Bypassing Censorship
Free VPNs can help a person hide their IP address and gain unrestricted access to content that might be geo-blocked in their region. This can be particularly useful for bypassing government censorship or accessing geo-restricted streaming services.
Free VPN Apps: The Downside
Limited Features
Free VPN apps usually come with limitations. This might include restricted server locations, slower speeds, and data caps. If a person needs more robust features, they might find free VPNs lacking.
Security Concerns
While some free VPNs are reliable, others may not be as committed to user security. They may log user data or have questionable privacy policies. It is, thus, crucial to do thorough research on the VPN provider one chooses.
Overcrowded Servers
Free VPNs tend to have more users, which can lead to overcrowded servers and slower connections. This can be frustrating, especially when streaming or engaging in bandwidth-intensive activities.
Ad-supported
To sustain their "free" model, many free VPNs rely on advertisements. These ads can be intrusive and compromise the online experience of a user.
Paid VPNs: The Premium Solution
Enhanced Security
Paid VPNs often provide more advanced security features, such as strong encryption, no-logs policies, and advanced malware protection. This means that user data is better protected.
Better Performance
Paid VPNs typically offer faster and more reliable connections. With a premium service, one can enjoy seamless streaming and online gaming without lags.
Wider Server Network
Paid VPNs generally have a broader network of VPN servers across the globe. This enables a person to access content from multiple regions and ensures better performance.
Customer Support
Premium VPN providers usually offer customer support services, which can be invaluable if a user encounters issues or has questions about their VPN setup.
Paid VPNs: The Drawbacks
Cost
The most obvious disadvantage of paid VPNs is the cost. While the price varies, they do require a monetary commitment. However, it is worth considering the protection and features one receives in return.
Learning Curve
Some paid VPNs may be more complex to set up and configure, which can be daunting for less tech-savvy users.
Not All Are Equal
Just because a VPN is paid doesn't guarantee its quality. It's essential to research and choose a reputable provider.
Which Is Right for You?
The choice between free VPN apps and paid VPNs ultimately depends on the specific needs and circumstances of a user.
If you're on a tight budget and only need occasional VPN protection, a free VPN might suffice. Just be sure to research your chosen provider thoroughly.
However, if online security and privacy are critical to you, and you engage in activities that require a fast, reliable connection, a paid VPN is the better choice. The added protection and features make it a worthwhile investment.
All in All
In conclusion, both free VPN apps and paid VPNs have their advantages and drawbacks. Consider your online activities, budget, and security requirements when making your decision. Ultimately, the right choice is the one that aligns with your needs and priorities. Whether free or paid, using a VPN can significantly enhance your online experience and protect your digital footprint in an increasingly connected world.